Learn to act like a survivor.
Your boss needs encouragement. Show concern.
Be a corporate citizen.
(I have three gifts for you at the end of this post. But read through so that you can enjoy it.)
I know you have a lot in your mind – from CNN to BBC to Al-jazeera news. Admittedly, if permitted, you have something to say to CNN, BBC, Al-jazeera and the world about your experience so far.
Part of the experience might be panic over potential job loss. Lots of employees are being laid off as organizations can't carry their burden in this crisis.
So, you might want to ask, "How do I protect my job? What can I do to avoid being a victim of job loss?"That's exactly what Janet Banks and Diane Coutu have given in this chapter of the book: Advancing Your Career. The chapter starts with this:
IN A TROUBLED ECONOMY, job eliminations and hiring freezes seem almost routine, but when your own company's woes start to make headlines, it all hits home. Intellectually, you understand that downsizing isn't personal; it's a law of commerce, but your heart sinks at the prospect of losing your position.
At this point, it's gone beyond commerce. The virus is proving stronger, and that's why commerce is bowing while the loss of jobs are increasing.
Here are the steps you can take to stand against job loss:
"ACT LIKE A SURVIVOR"How do you act like a survivor?
"Demonstrate confidence and cheerfulness" 😀
Whether at home or still working, don't allow fear to grip you. It's a mind game first before it shows up.
Does it mean you ignore the heat? No. Do you allow it overload you? No either.
"Keep your eyes on the future"
It's hard to do this now with all newsrooms telling you the negatives non-stop but as the authors gave an illustration, thus, "Studies of concentration camp victims show that people made it through by imagining a future for themselves."In another line, they said, "We've seen that luck plays an important role, survival is most often the result of staring reality in the face and making concrete plans to shape the future."
The authors also gave a profound thought on how to think about your customers relation to the future:
"In your job, there's no better way to look forward than to stay focused on customers for without them no one will have a job in the future. Anticipating the needs of your customers both external and internal, should be your top priority. Prove your value to the firm by showing your relevance to the work at hand, which may have shifted since the economy softened. Your job is less likely to be eliminated if customers find that your contribution is indispensable."
Take a look at Anne's story to illustrate this:
Take the case of Anne, a manager at a large New England insurance company. During a reorganization, Anne found herself vying for a position with a colleague who had far less industry experience than she did.

When she learned that she and her department would be folded under this colleague's department, Anne realized that she had one choice if she wanted to keep her job – use her significant influence to support her new manager. So she publicly threw herself behind the colleague.

In turn, he gave her the loyalty she felt she deserved. Anne's attitude demonstrated commitment to the company – something that was noticed by the management. A year later, Anne got new responsibilities that led to a prestigious board appointment.
What roles would you want to take to see that your organization makes progress?
"GIVE YOUR BOSS HOPE"How?
"Your ability to empathize can demonstrate a maturity that is invaluable to the company, " they said.
It can be as little as trying to know how the organization is doing… You can send a mail or a text to encourage your boss in this turbulence season.
This alone can be the eraser that cleans your name from the potential "job loss" list.
"Unite and inspire your colleagues"
The Isaac story.
At an international financial services company that had endured a 20% staff reduction, morale had plummeted. Isaac, a learning and development VP, assembled a team of volunteers who created a live radio show that engaged even cynical employees. It included a soap opera that kept staff laughing and waiting for the next episode.

And it gave executives a platform to share key information, such as the company's performance and structural changes. Morale improved, and Isaac eventually became head of management and leadership development.
What action can you take to unite your colleagues together?Maybe a Whatsapp group can do something or if it exist already, try something uplifting on the group with caution though.
You might be saving yourself from job loss."BECOME A CORPORATE CITIZEN"Let's see how Linda exhibited this…
Linda, a VP in operations, who worked in a large company that needed to cut costs. Management came up with the idea of shared service centers to avoid duplication of effort in staff functions in areas such as compensation, management training, and strategic planning.

The decision was universally unpopular. Service center jobs had one of the catcher of working in small business units, where customized solutions could be developed. Headquarters objected to losing the elite status they'd enjoyed as corporate experts. When service center jobs were hosted, many high-profile people refused to put their names forward, misjudging their own importance and hoping management would relent. But Linda saw the opportunity and applied for a service center job.

The new position gave her immense visibility and was an immediate promotion. Meanwhile, many of the resisters found themselves standing without a chair when the music stopped… Six years later she reported directly to the president of the company.
If you're convinced and believe in the vision of the company, then go all the way to make it stand and not fall.
On the tail, the authors advised that if you can't do again, then decide to neatly exit.
I'll end with the words of Jim Collins from his well-researched book, HOW THE MIGHTY FALL:
We are not imprisoned by our circumstances, our setbacks, our history, our mistakes, or even staggering defeats along the way. We are freed by our choices.
Just for fun…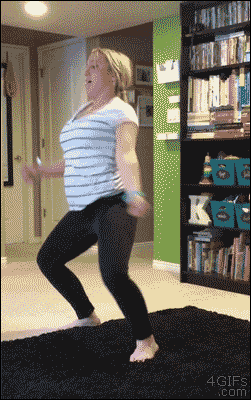 You won't fall like this…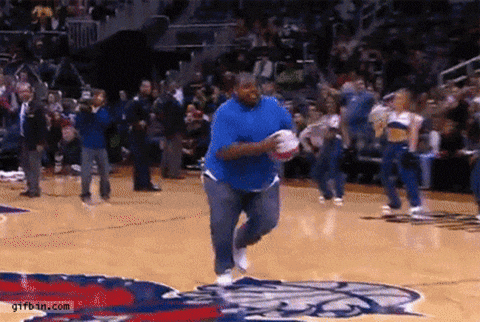 You'll win after this crisis…
https://giphy.com/gifs/dunk-awesome-75ueLvSt2vqNO
Remember to wash your hands and your mind. Stay safe!