LOVE 1:
That day was different. Or should I say she felt different that day? Well, whether she felt or the day was different, there was a difference with how she felt and the day too… 😁💞
Yes, it was her birthday. She hardly slept well the previous night. Her mind racing. Her heart pacing. Her love 💝 waiting. You know how you feel when it's your day and he has not shown up. You know it right?
She could only just play her love movie in her imagination. No director. No producer. No list of cast. The videographer and every crew member existed in her mind.
She got to the office and boom!? He left her the nicest flower she ever received in her life. (Don't give that look now as if you'll not at least begin to melt if you were Ms Zawadi, a Kenyan working in Ghana.)
She looked back as if to say, who did this? But no one was looking forward as if to reply, I did. She closed her office door and took a deep breath. Was she confused again as she was between should I take it or who must have done this or can Mr Right be in this office and never said a word to me?… Hunnn?!
It was exactly 07:44am and she had 10mins to waste before resuming work. Everyone, but this secret admirer, forgot her birthday.
Abdul, like the fiance of Bill Gate's daughter, is from the land of the Pharoahs. At this time, he wasn't willing to let Israelite, not Israelites if you understand, go. Why? Love.
Ms Zawadi got a flower and a date request to meet Abdul at Simret Ethiopian Restaurant and a finishing touch at Pinocchio Galeto – one for local dishes and the later, lots of ice cream.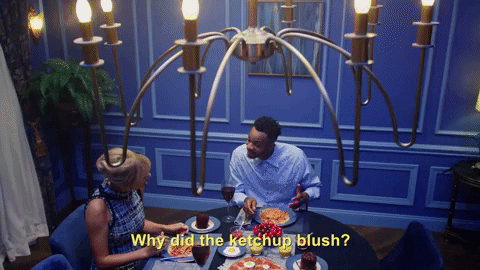 That night was coming too slow. You know what I mean right? You just can't wait to get there.
From Pinocchio Galeto to Lululu Lalalato. I don't know why that means too… lol. They started dating a week after that experience. Like a Judit Polgar and a Sven Carlsen (both chess masters), they used the office space as the chess board to play the game of love. Hmmm…
Down the lane, nine months later, they got married. Did I say nine months? A year and six months I beg your pardon.
The duo did it so well that some love birds in the company had to ask them how come both of you did this so swiftly without any spill over?
I'll share their response later. However, let's see another experience.
LOVE 2:
She knew they had this spark between them. They always disagreed during meetings. It was like a rivalry. Elna (beloved) and Emeka were friends (like my students will tell me, they were friends but not friend friend or they say she's my bestie but not my sidie…) in school before graduating from the University of Capetown, SA.
Emeka was employed in the company two years before Elna joined. He knew she was coming for the job. He helped her. She needed an inside information on how to prepare for the interview. Although, he wasn't part of the panel, his heart was already panelled to solar Elna or something like that… In essence, the guy was falling.
But was he ready for office romance?
Elna knew she wanted the job. She braced herself and came in. As former classmates, they got close but I don't know, somehow they started going South.
Before you begin to judge them, have you found yourself in that situation where you like 💕 someone but the reaction sometimes is not cool. You know you're falling but you see nails on the floor and yet you still want to fall on a smooth floor.
Let me ask, is love really smooth? Would there be rough times when you love? Can it be a test?
Or do you want Steve Harvey to run an interview on four guys on a live show with you before you choose the right guy to date? (I actually saw that show last week and even before Kelly choose Angelo, I already loved the dude but my love for his charisma is not a guarantee for a lasting relationship).
Elna wanted to be loved just like every lady or most ladies hunger for. It's not bad. I don't think so. Who wouldn't want to be loved?
They started dating few months after she resumed work. It felt good and rough just like Zawadi and Abdul experienced. Love's journey can be rough too. That's part of the process. However, I think there's a time equation in love.
Two years later, they broke up. Elna left the company with shame. Emeka was lucky he was so good that they couldn't allow him go. He felt he could handle the trauma. Just like Elna couldn't, he also couldn't.
He went into depression for about a month. He had to apply for "sick leave."
Most times guys think they can fall in and fall out. Well, you ain't seen nothing yet. I know that ladies are soft. Some are hard. But I think every woman deserves a gentle touch and a…
Elna cried on the last day of work. The Uber driver that came along to pick her was so embarrassed but had to do business instead of try to clean up what he didn't throw away.
This "couple" couldn't keep their relationship intact. She was to report to Emeka every week and then receive appraisal from him.
Now, imagine if he gives her a faulty appraisal, will she allow him get a full hug that week? I don't think so. What he will get is a h, not even a capital H. A small h that's not bold. Lol… 😁
So, the "chairman" kind of started to do appraisingnalizationism (again, I don't know the meaning). All I know is that I must get my full hug… 🙆
Where do you think they got it wrong? Where do you think the first couple got it right? Can you fall in love in the office and keep it? How?
Somehow, if permitted to give a different title to this, I'd say, Can I Handle True Love in the Office?
My next post will be on how to manage this love when you see it in the office. For me, I believe one can find this love in the office. Do you believe?