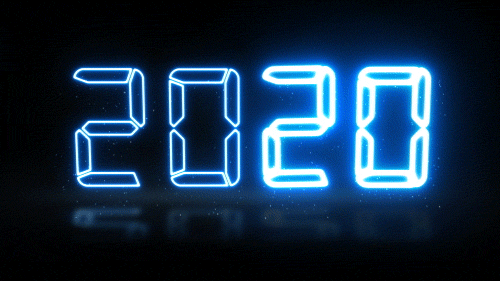 giphy.com
I've been doing a series on goal setting and planning because it's end of the year and the vibe is on.
You see the average person trying to show the world what he's made in 2019… Black Friday impulsive spending just happened about four weeks ago in shoprite… Everywhere was packed.
Finally, we're waiting for 2020. Everyone is excited about the new year but how many are ready for it?
We tend to forget that
A new year is nothing but a promise of change. Things will not necessarily get better. But they will not remain the same either.
Yet, few employees are setting goals that will affect their work and life. And can I tell you what 2020 is full of?… time and change not trout and chocolates.
So, how do you control it? How do we as employee think we'll control these constants?
If we know that time and change will come then the best strategy is to set goals. Goals give you direction and control.
Research says just barely 3% of the population set goals. But why?
FEAR OF FAILURE
One of the goals I set when I was a teenager is that I want to play for Manchester United. However, the best I've done is watch all their matches on TV. Lol…
Have I felt stupid? Yes! Have I stopped setting goals? No! Why? I figured out that life goes on whether I achieve my goals or not.
I know you didn't achieve certain things in your work place. I didn't too. For example, I couldn't start my podcast for teens. I've pushed it into 2020.
Will I stop setting goals for 2020 because I'm afraid it'll fail?
Here's a view of what I'm working on already:
Can I tell you this:
You only lose when you stop trying.
Psquare, one of Nigeria's top musician sang a song that says: E no easy for me, if I no get today I go get am tomorrow (If I don't have it today, I'll have it tomorrow).
This should be the mindset. If your previous goals failed, try again wisely.
DON'T KNOW HOW
How many of us knew how to set goals while in school?
Brian Tracy, in a post, mentioned goal setting as the number 1 habit of successful people. So if as an employee, I don't set goals because I don't know how, what are my odds of being successful?
Like I said earlier, most of us were not taught – neither in school nor at home.
Thus, it'll be wrong to blame you if you don't know how. But if you refuse to learn how to, then I will.
You can read here, How to Set Goals.
I Want It Now MENTALITY
Gavin Ingham, who's a speaker and author says it this way:
In today's society, we want everything now. We are living in an instant gratification, 'short-termist' culture. If we want something we buy it. Never mind whether we have the money or not, if we want something we borrow the cash and get it. Now! People are really focused on now… live now, pay later. Live now, worry about it later.
Greed and impatience make us see goal setting as a waste of time. The stats for gambling is increasing by the day. And one of the reasons is this thirst for it's either now or never.
Employees want money now. Not tomorrow. She wants to be born today, attend school tomorrow. Graduate on Wednesday, get engaged on Thursday. Do bridal shower on Friday, marry on Saturday… My dear, how?
You only see that in Cinderella movies. Yet, thanks to Disney World for showing us that Cinderella gets injured too. Goals need patience!
One Day E Go Beta MENTALITY
(This means, some day, it'll be good). I'm a Nigerian and I know deep in my heart that this is one of the ways we escape responsibility for our lives.
While I like the hope it stirs, I hate the complacency it creates in the minds of those who have refused to think and take action.
I read this by Joe Rossini on ehappylife.com
… If you don't take full responsibility for everything that happens to you, but rather find someone, something or some event to blame for every setback or failure, you cannot take the first step toward goal setting.
Believing in luck is not a strategy. Set goals and go to work in 2020.
NO PERSONAL COMPELLING VISION FOR LIFE
I think this should be the first reason.
How many employees have a personal compelling vision for their lives? How many are working beyond just earning? Earning money is good but can we go beyond that?
I'm an employee and I understand the challenges of the average Nigerian employee.
But see, when vision drives your life, no one tells you to look up to something greater than just your belly.
---
Amongst the 5 reasons, which of them affects you the most?
2020 is barely 16 days from now.
Do you know you can determine certain things that will happen in your life in 2020 with simple goals?
"The only way," Myles Munroe said, "to control time and change is to plan."
Plan with your goals. Sure I know there are things you can't plan or control. Yet, do your part and keep hope alive.